Are you dreaming of boat ownership? Looking to hit the open seas and experience the sense of freedom? If your idea of escaping the stress of the daily grind involves a large body of water and a boat, but you have never owned a boat before, read on. We have prepared a few boating tips, but not just any old boating tips either, especially for all of your first timers itching to earn your sea legs, we have a few first time boating tips and ideas for you to consider when embarking on your first maritime adventure.
First Time Boating Tips 101 – Getting Started
First Time Boater Tips 1 – Buying a Boat for the First Time? Here's What to Look Out For
If there is one essential part, a pre-requisite for setting out on a boating adventure, it would be owning a boat in the first place. For that reason, no write up on first time boater tips should go without advice on buying your first boat.
You have your marine finance pre-approval, you know your budget and all you need to know is what boat to buy, a commitment to your boating dream will often require a considerable enough an expense that you may want to be careful before taking a leap of faith and making an uninformed purchase. Here's a few first time boater tips on us:
Decide what you are buying your boat for – are you into fishing, water sports or cruising and relaxing. Narrowing your focus down early on will prevent you from getting too much distraction from glossy marketing brochures trying to sell you on a boat. To buy the boat you'll love, first you need to decide on what you love about boating.
Consider the size – it sure is tempting to go for the biggest boat you can afford, but consider the logistics before taking the proverbial plunge. Think about storage. Do you have a big enough yard? What about transport? A big boat will need an adequate trailer, if you live on a sloping block with a narrow driveway, a big boat may be a great way to enjoy some time on the water or to impress your mates, but it can be an equally great a headache to park, store or just bring in and out every time. Can your vehicle handle a big trailer, or will you have to upgrade that too? How about passengers? Are a lone sea wolf? Or do you want to take your mates or your family with you every time you set sail. As far as boating tips go, we think that size should probably your next consideration, right after price.
Type of fuel – while a petrol boat may be cheaper, it may be worth investing more up-front money into a diesel-powered craft instead. Over time, the cost of fuel for your petrol boat will certainly bring a regular mariner to spend as much on a petrol boat, as they would have on a diesel one, thanks to the running costs alone.
First Time Boater Tips 2 – Boating Essentials and Must Haves
Ok, so you have your boat, but what else do you need? Life vests are certainly the proverbial "no-brainer" but there are a few other must-haves you should at least consider, here our boating tips on the essential items a first-time mariner should think of.
A back up handheld horn – if your horn ever fails, it's good to have a back up air horn on hand so that you can still alert other to your presence
Extra spare life vests – as the old saying goes "Better have it and no need it, than need it and not have it"
A first aid kit – you never know what kind of an emergency you might encounter on the water. Even if you are very careful yourself, consider the others, a proper first or an emergency aid kit can save your life, or help you save someone elses
A fire extinguisher – as with life vests, this one should be a no-brainer. For starters, regardless of whether your vessel is powered by a petrol engine or a diesel engine, you are still being propelled by internal combustion, that means fire. You do not want to be caught by a fire emergency on the water without a fire extinguisher on hand.
A paddle (!) – well, this may not be as useful for the owner of the largest boats out there, but consider having a paddle hand if you go out in a tinnie, if your engine ever fails, at least you will have means of getting back home if there is one around to give you a helping hand
A jump starter – if you ever got caught by a flat car battery, you know how much of a hassle can be to get your car going again. The same thing can happen with your boat, but you can easily prepare yourself for this eventuality by buying a marine jump start kit.
Sunscreen – the sun reflects much stronger off water, making its adverse effects on your screen much worse than during many other, typical outdoor activities. In Australia, we know how important it is to "slip, slop, slap". Always have extra sunscreen on hand when taking your boat out, your skin will thank you.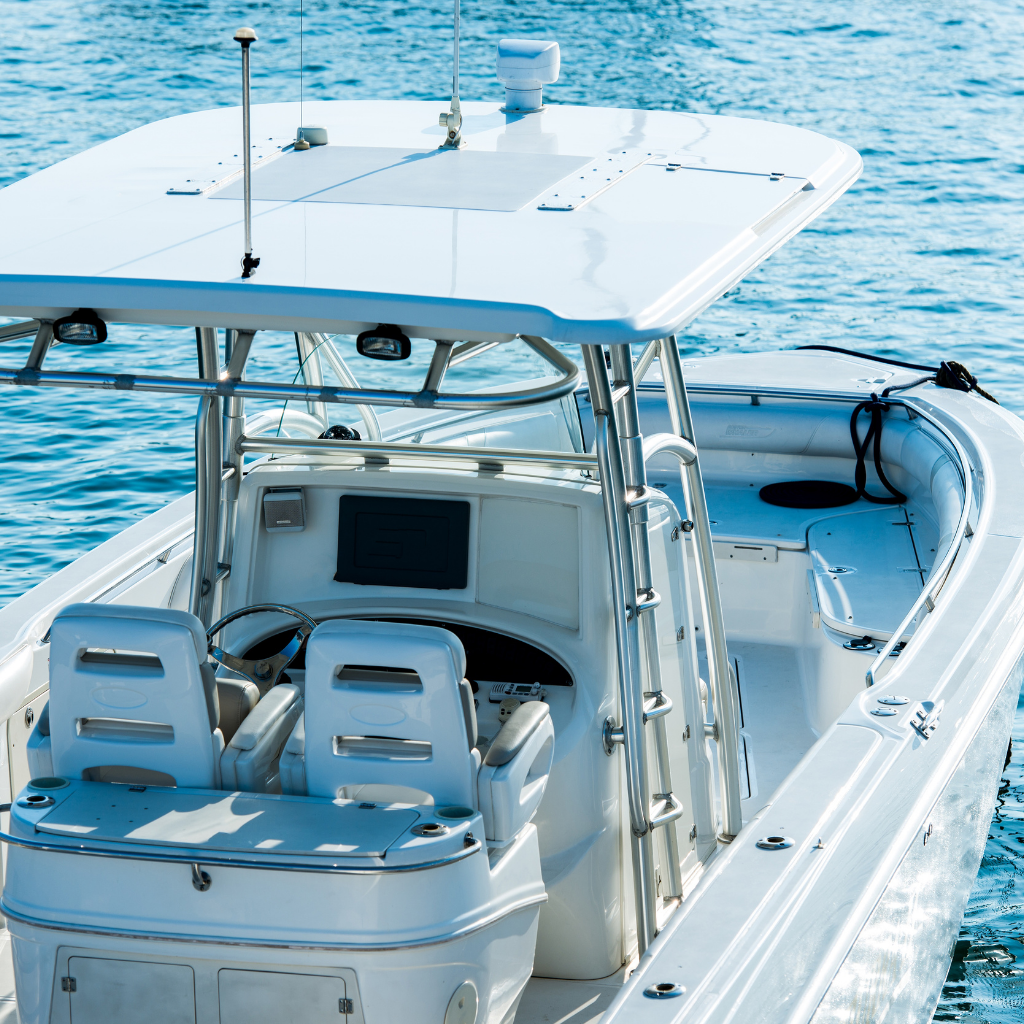 First Time Boater Tips 3 – Useful Accessories
Now that you have your essentials sorted, it's time to think about the extras and creature comforts. Here is our last list of first time boat owner tips for today, useful accessories:
Fishing rod holders – this one is simple, and a go-to for anyone looking to get into boating because of fishing. A rod holder will let you fish without having to constantly hold your fishing rod, so that you can do something else while you are waiting for that big catch, like read a book for example.
Bluetooth speakers – sure, being out on the water is nice and relaxing, but can get boring, especially if you like to go out on your own. As one of our first time boat owner tips, we would recommend that you consider buying a Bluetooth speaker to have something to listen to.
An esky – now, we don't mean anything silly here, an ice filled esky on a boat is not for storing your beers, especially not if you're the one steering the boat! That said, the constant attack from the unforgiving Australian sun will dehydrate you quickly, especially when combined with the salty sea air. Keep a supply of fresh drinking water in your esky to avoid dehydration when out on the water
A waterproof phone case – if you took the second of our first time boat owner tips in this section and bought a Bluetooth speaker, you will probably want to play the music you have on your smartphone. Don't forget you are out on the water and if there is one thing electronic smart devices do not mix well with, it is water. Protect your phone with a waterproof phone case.
 Well, that's it for the Marine Finance Specialists' first time boat owner tips, we hope you find at least some of our ideas useful.
Catch the Big One Today with the Best Fishing Boat Finance from the Marine Finance Specialists
How did you like our first time boating tips? Are you ready to get started on your boat ownership dream? Apply now, and a boat loan broker from Marine Finance Specialists will get back in touch with you, to help you make it all happen! For the cheapest boat finance, go no further than Marine Finance Specialists.
Apply Now